The iQID Family
The iQID family of particle imagers offers a range of imaging area sizes and other features to meet your needs.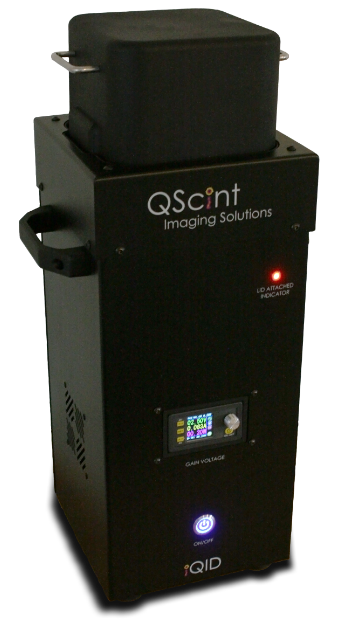 Setup
Each iQID comes with a laptop and all the software you need to run your iQID already installed. Setup is simple:
(1) Plug in the iQID and laptop to mains power with their provided power cables, and
(2) Connect the iQID to the laptop with the provided USB cable.
Ready For Your Application
The iQID's highly-configurable design offers our customers the ability to select the features that bring the most value to their preferred application for their budget.
The below table provides a summary of the selectable aspects of your iQID imaging platform.
| Feature | Options |
| --- | --- |
| Alpha-particle imaging | Standard in all iQIDs |
| Beta-particle imaging | Low- and high-energy, high-energy only |
| Pixel size | 12.2 µm, 19.5 µm, 36.6 µm, or 48.8 µm |
| Frame rate | 35 frames per second, 75 frames per second |
| Detector area | ⌀25 mm, ⌀ 40 mm, ⌀ 80 mm, 10 x 10 mm² |
Not sure what you need? No problem. We will gladly answer your questions and discuss your application and other requirements with you to point you towards the right iQID configuration.